PFAS Chemicals and New Detection Technology
Until now, there has not been a real-time detector for air or waterborne PFAS chemicals. Technical Associates, the design and manufacturing division of US Nuclear Corp, introduces new technology to the market for determining PFAS chemicals in air or water.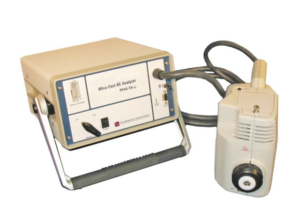 PFAS chemicals are the 'forever' chemicals often in the news. Detection of PFAS chemicals is challenging and has been typically an expensive and laboratory-intensive process. Federal regulations are being reviewed and implemented, such as the elimination of PFAS in firefighting foam.
PFAS chemicals are frequently used in manufacturing many standard products; often, PFAS chemicals are in the products themselves. Some of these PFAS-containing products are: cleaning products; rain gear: umbrellas, raincoats, boots, gloves, etc.; nonstick cookware; paints, varnishes, and sealants; personal care products like shampoo or floss, cosmetics like nail polish and eye makeup; contact lenses, to name but a few.
The Technical Associates models PFAS-TA-F and PFAS-TA-L have user-friendly features. As a portable laboratory, fast measurement takes less than 5 minutes, and the typical delay in waiting days or weeks for a report from a laboratory is avoided. With its computer and software, the PFAS-TA-F is field-ready, and on-the-spot measurement is a simple task. Typical PFAS testing requires filling and labeling multiple sample bottles sent to a lab for testing. This labor-intensive process and subsequently expensive testing are no longer needed with the PFAS-TA-F; worry a lab tech may switch or lose your samples is thus avoided. The PFAS-TA-L can be used in a lab and connected to the laboratory computer or ordered with its computer as the PFAS-TA-F.
With the PFAS-TA-L (lab) and the PFAS-TA-F (field) instruments, an immediate 'yes' or 'no' to the presence of PFAS chemicals is now available. This is an essential first step in the testing process that has not been previously available. A 'no' result avoids an expensive laboratory test only to find no PFAS in the sample tested. A 'yes' result alerts the tester to send the sample to a fully equipped lab for quantitative testing.
Please call 818-883-7043 or email: sales@tech-associates.com with questions or to discuss PFAS. We're also available to answer questions about our other hard-to-detect air or waterborne contaminant instruments.